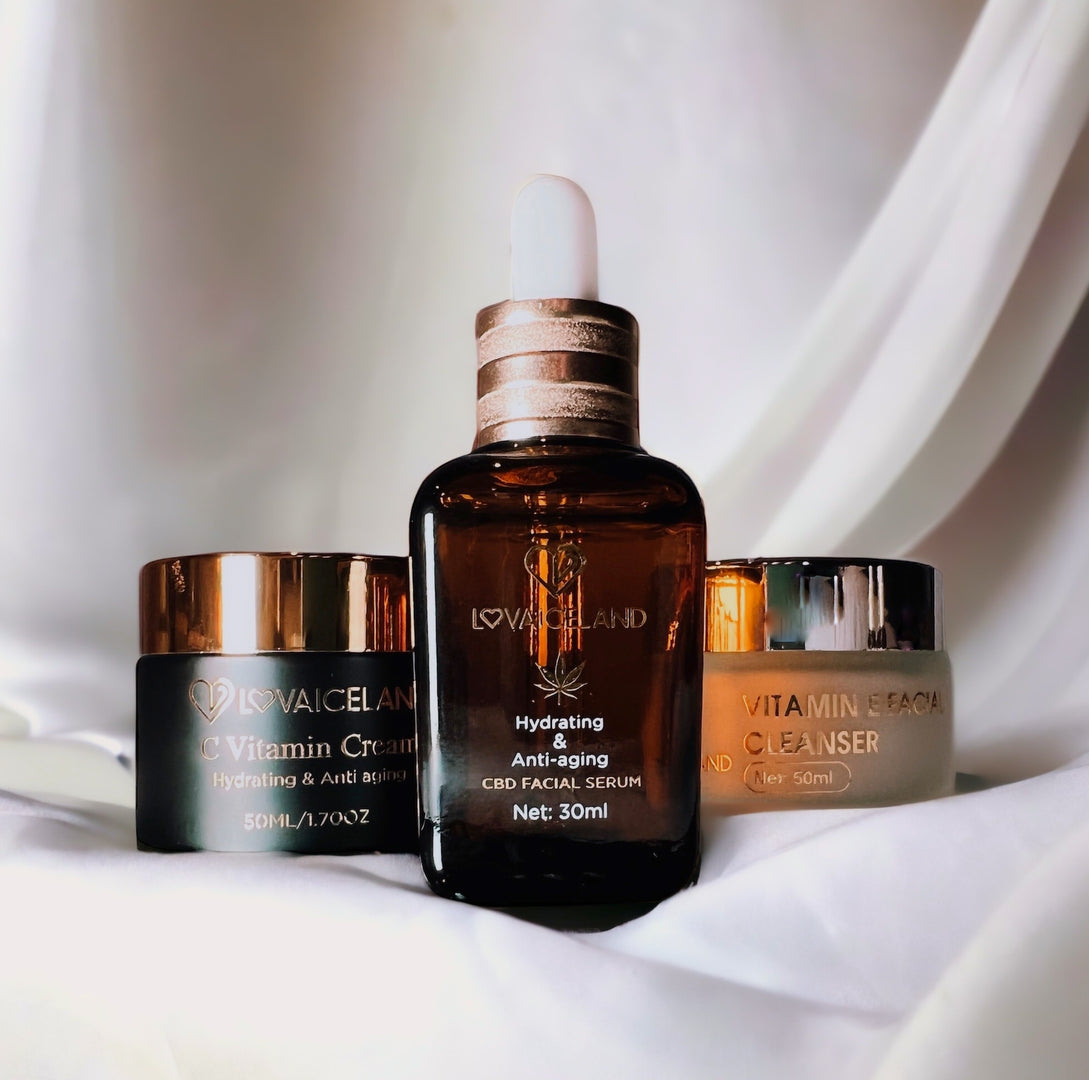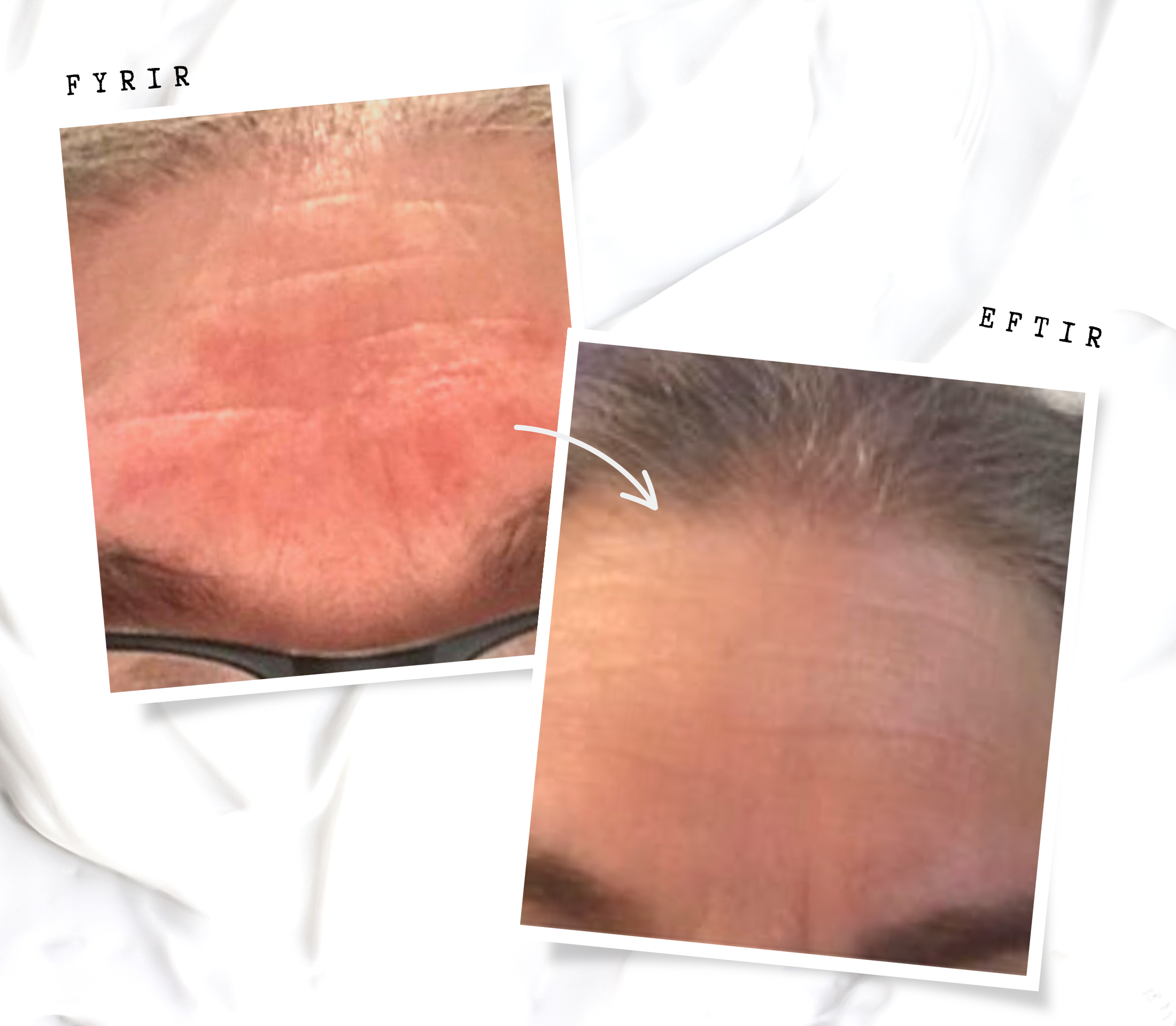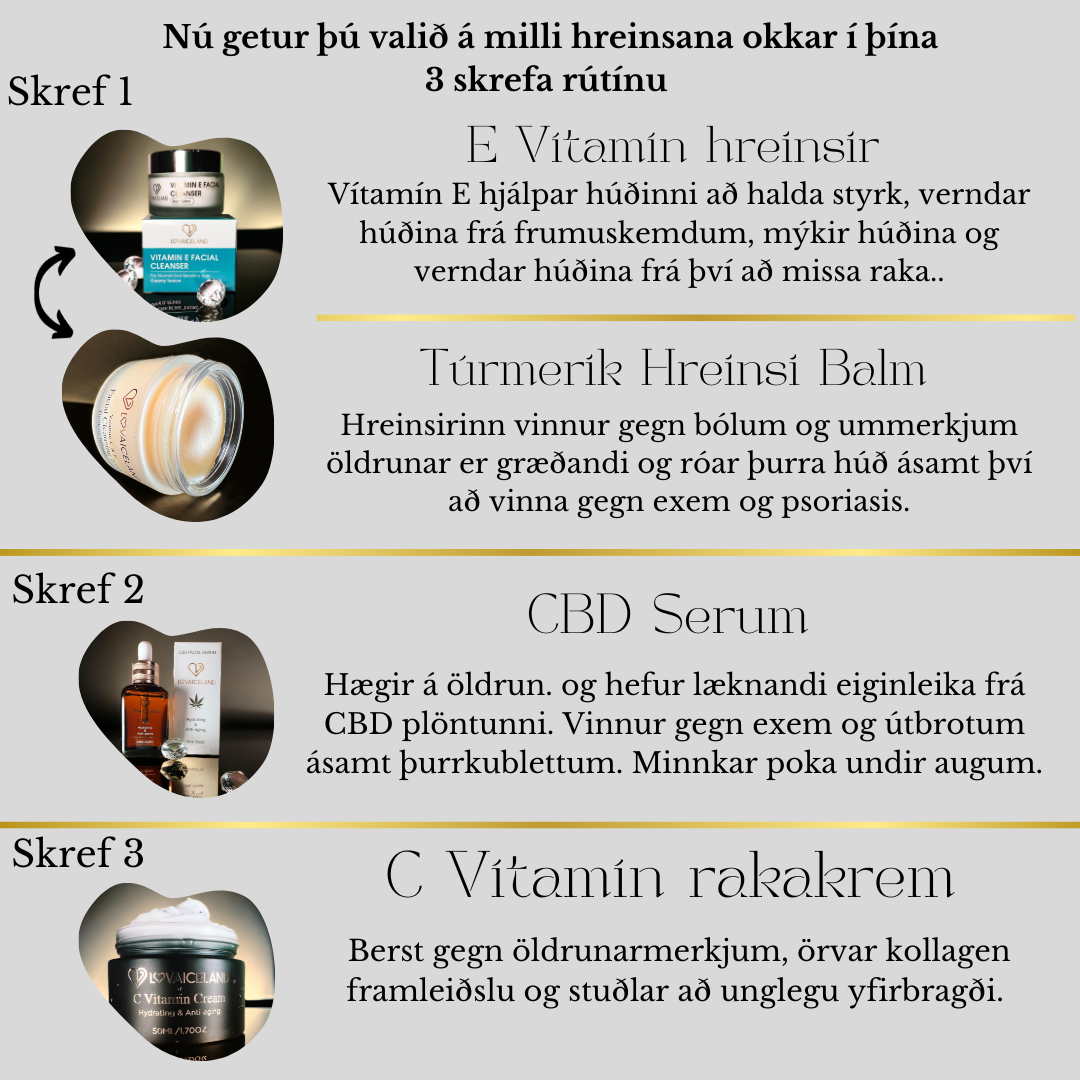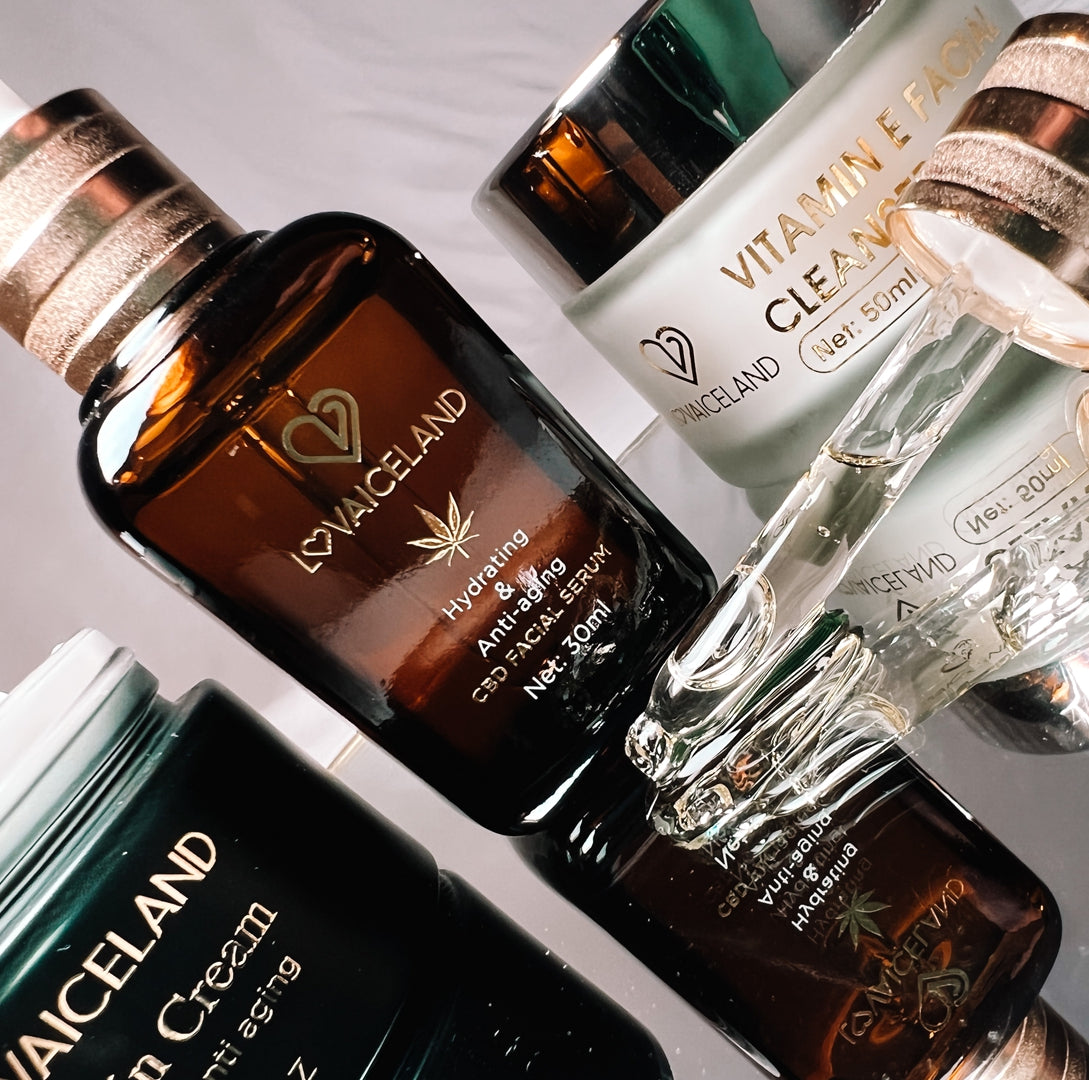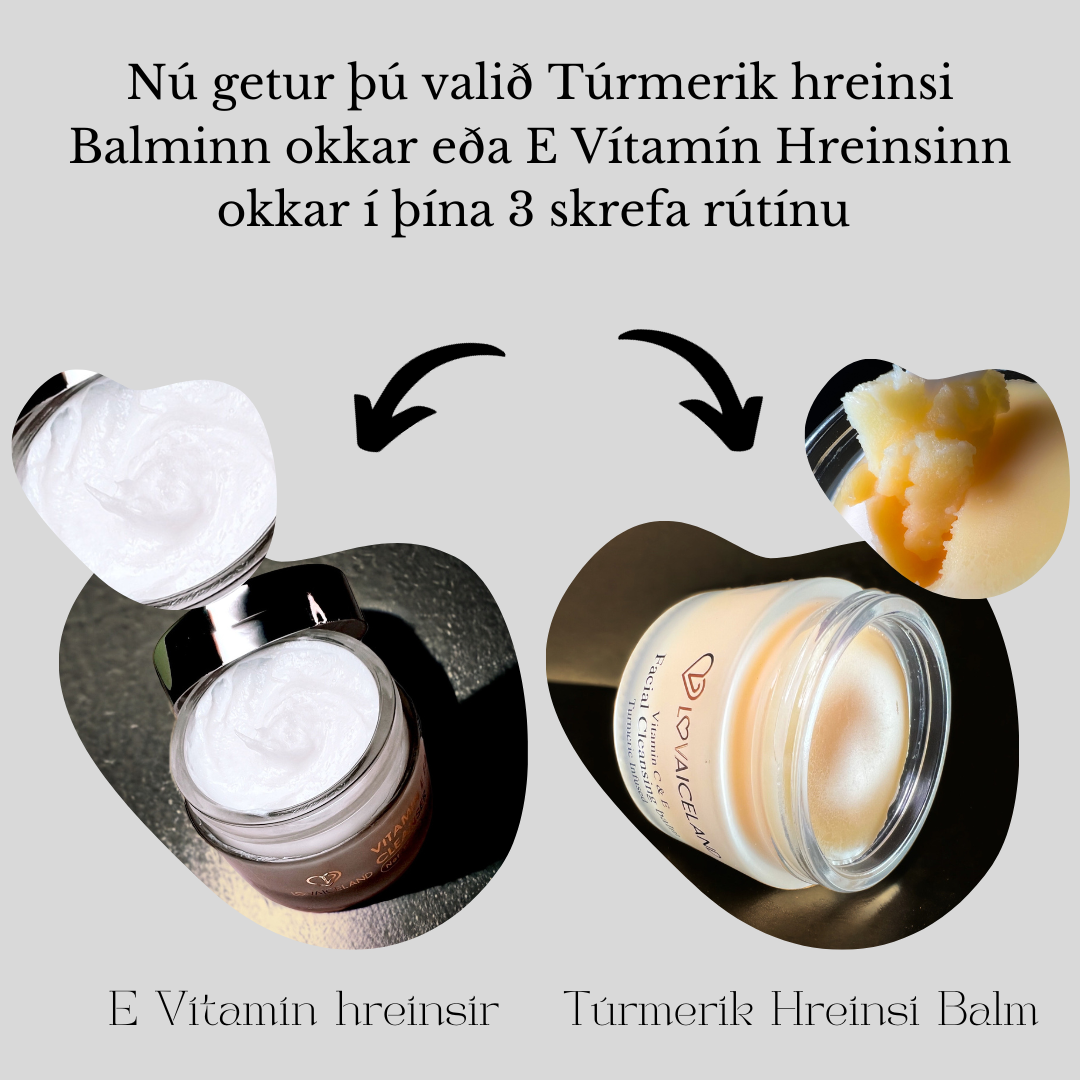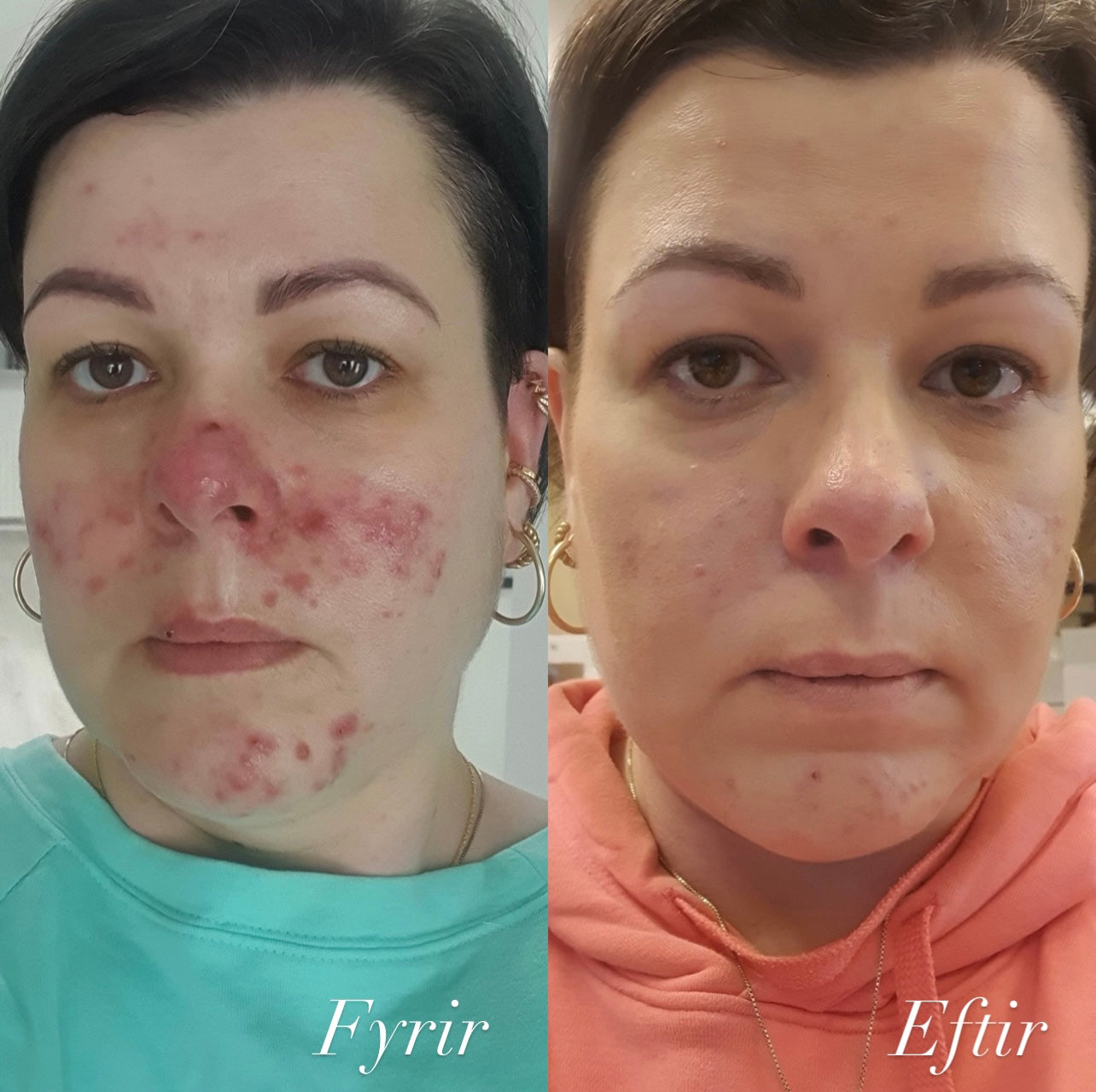 Three-piece essentials combo
Tree-piece collection includes:
1. pcs - C Vitamin facial cream
1. pcs - CBD facial serum
1. pcs - Vitamin E facial cleanser or 1.pcs Turmeric Cleansing Balm

Step 1. Pick your cleanser:

E Vitamin Creamy Facial Cleanser: A luxurious blend of indulgence and skincare. This creamy cleanser gently purifies and nourishes, leaving your skin clean, refreshed, and radiant. Enriched with Vitamin E, it protects and moisturizes, while its velvety texture provides a spa-like experience. Transform your cleansing routine into a pampering ritual with our creamy and revitalizing formula.

Turmeric Cleansing balm: Experience the power of nature with our Silky Smooth Turmeric Facial Cleansing Balm. This luxuriously soft balm that melts on to the skin when applied, featuring turmeric's anti-inflammatory and brightening properties, is your perfect partner for a radiant, clear complexion. Ideal for treating acne, healing wounds, and soothing dry skin, it also provides much-needed relief for conditions such as eczema and psoriasis. As you cleanse, it gently removes impurities and makeup, leaving your skin clean, soft, and glowing.
Step 2. Apply the CBD Serum:
CBD Anti-Aging Serum: A multi-purpose skincare powerhouse. This potent serum combines the healing properties of CBD to combat aging, soothe eczema, and reduce under-eye bags. With a lightweight texture, it absorbs quickly, delivering transformative results. Reveal a youthful complexion with reduced fine lines, calmer skin, and refreshed eyes. Elevate your skincare routine with the versatile benefits of CBD for a revitalized and age-defying glow.

Step 3. Apply the C Vitamin Cream:

Anti-Aging C Vitamin Cream: With Aloe Vera and Green Tea. This powerhouse combination fights signs of aging, stimulates collagen production, and promotes a youthful complexion. Hydrating Aloe Vera and antioxidant-rich Green Tea nourish and protect your skin, leaving it refreshed and revitalized. Lightweight and suitable for all skin typesWhether you have dry, oily, or combination skin, this cream effortlessly glides on, leaving no greasy residue.